HR solutions
HR is not something that you just do. It is only thanks to HR that your company
exists

.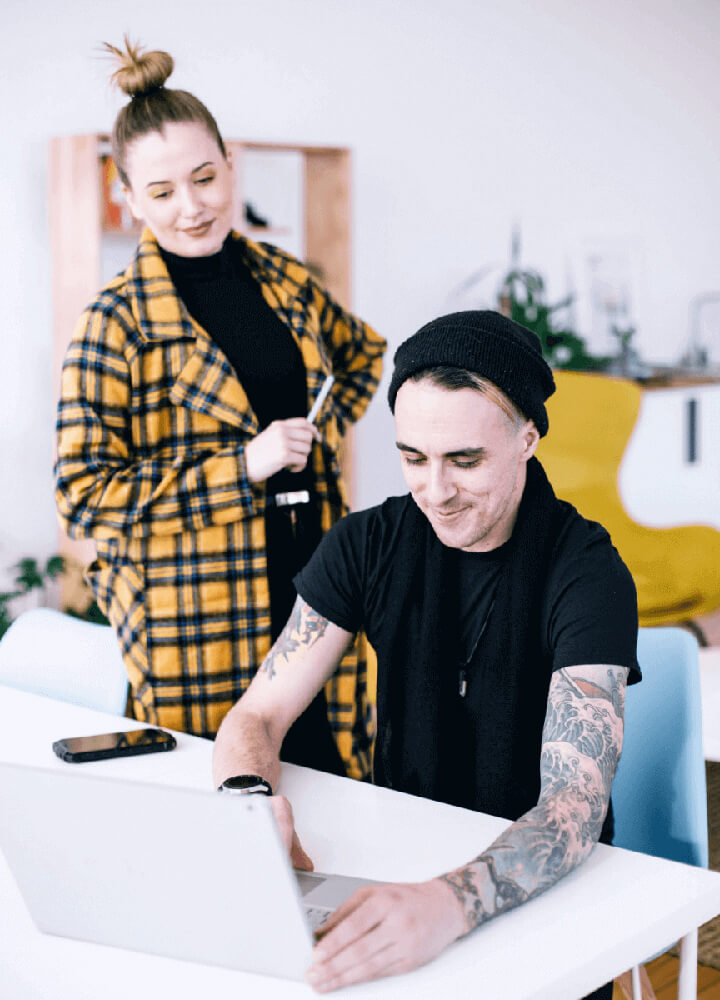 Recruitment and hunt for the right employees
Finding great employees is nowadays more important than customer acquisition. Human resources management plays a key role in your business. Ideally, it should support the growth, stability, and value of your brand.

Recruitment of ideal talents is dependent on how your company is viewed by the potential candidates. Nobody is applying to a job vacancy without being interested in the work environment of the company or the personal experience of employees. Have you noticed the emergence of webs like Atmoskop or Glassdoor that evaluate employers? And do you know what they say about you?
Never underestimate the power HR
Take care of your image and of the way you get the attention of your candidates, their recruitment, adaptation, growth and even departure. Software such as mobile applications or web can be a fantastic tool to reduce employee fluctuation or to increase the loyalty of your employees, let alone it will take care of the majority of routine and mundane paperwork. As a result, in place of filling in forms and writing reports, your HR manager will have more time to take care of the happiness of your team.
Let's talk
Our killer skillset
What can we do
Premium recruitment webs
The basic component of good recruitment is addressing the best talents on the job market. You need to have a professional hiring page to do that as the research has shown that 78% of job applicants make their decisions based on hiring page. However, human resource management requires much more than that.
Share knowledge across teams
Take advantage of the synergy of your team and let your employees share the experience they have acquired over time. It is senseless to make them reinvent the wheel, or force them to call more experienced colleagues when they could have found everything in an internal system.
Internal HR systems
We will save your HR managers hundreds of unproductive hours and let them do what is the most important part of their job - take care of your employees. Apart from innovating HR processes, we can also deliver the following:
System for employee files management
Recruitment system with candidate management
Company's social media
Employee fluctuation analysis and solutions
Fluctuation has to be addressed even before any problems emerge. We can analyze the reasons for fluctuation on the basis of historical data and suggest appropriate prevention measures. The costs of a frequent change of employees are higher than you can imagine.
Acceleration of onboarding and internal trainings.
We replace instructors with a modern IT system. If your onboarding is done in a good and up-to-date manner, you can save up to 90% of costs for dull training. Your employees just start working and the application teaches them everything they need when they need it.
There are 3 reasons why our clients most often recommend us
Speed & flexibility
We were born as a startup that changes almost every day and requires maximum speed and flexibility. We answer 91% of emails in 40 minutes.
Quality
The best solution is the standard for us. That is confirmed by 5-star reviews on the biggest platform evaluating developers worldwide Clutch.co and stylish hand-written personal letters of recommendation.
Business orientation
Research among our clients revealed that from 95% they appreciate our business orientation the most. We save time, make money, solve problems.
01
Reliability
We deliver to the last pixel what we promise. Our team proactively manages the whole project to the success and deadlines are sacred to us.
02
Human approach
We don't bore anyone with technical terms, we want to speak like humans. We understand business and not to waste your time we speak honestly.
03
Innovation
Innovate or die. We know it and we are not ready for dying, so we constantly innovate, experiment and improve.
04
Cooperation
The main reasons why we are a great SW agency are long-term relationships with our clients. We forecast their needs, save time and in 93% of cases, they are coming back to us.
Contact us
Let's meet over coffee
Adresa
Pixelmate, s.r.o.
Na Lysinách 443/57
147 00, Praha 4
Autem
Výjezdem z Barrandovského mostu na Braník
Letadlem
Souřadnice 50.0230122N, 14.4156611E
Pěšky
2887 kroků z OC Novodvorská
Autobusem
Zastávka Na Lysinách, bus 106 nebo 121
What other products can we offer?